Here are a few good tips before starting: 
1. Remember to apply the false lashes last to prevent eyeshadow fallout.
2. Delicately remove the false eyelash from its packaging to help keep its shape.
3. Choose an eyelash glue that you feel will blend best! 
Instructions: 
---
- Before applying any glue, decide the placement of your false eyelash. Make sure the eyelash does not extend down past your natural lash line from left to right.
- Always be sure to apply enough glue to the inner and outer edges of the false lash, this is where strip eyelashes tend to lift up the most. For some reason, everyone applies enough in the center but somehow misses the outer edges.
- Allow the glue to become tacky by allowing the glue to dry for 30-40 seconds.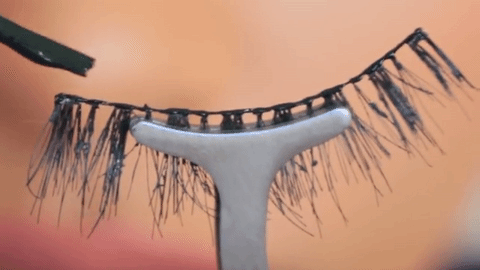 ---
- Place your eyelash on your lash line. Mirror Check* the placement of your eyelash by looking upward and firmly pressing down any gaps before it fully dries.
- Be sure to take extra time  (20-30 seconds) to hold down the inner and outer edges of the eyelashes with your fingertips. This ensures that the eyelash doesn't lift up. 
Last, my best tip of all. I highly recommend using liquid eyeliner, or a fresh gel eyeliner because it doesn't lift and manipulate the eyelashes the way that many pencils do. Oh! and one more thing! HAVE FUN! Layer the lashes. Sometimes, wearing more than one pair looks awesome!